Nam Nam - Art Ceramics (Arts-vs-Crafts
Art vs Craft - The Work of Namiko Murakoshi
Art vs craft?  When is contemporary ceramics art an when is it craft?  Artists like Namiko Murakoshi, who happen to have chosen to work in the medium of ceramics, are fantastically skilled craftspeople, but also their work is structured and presented as also to be a form of fine art.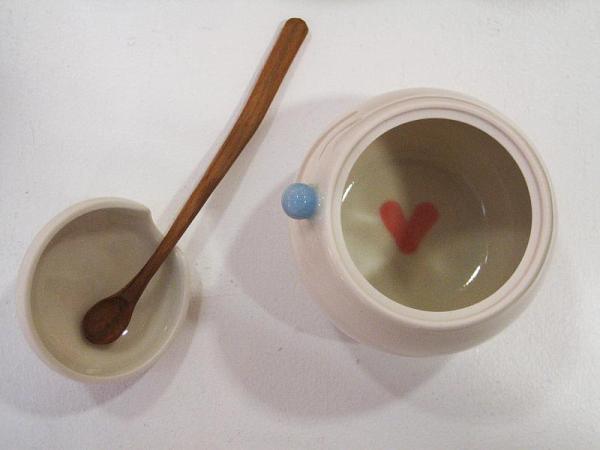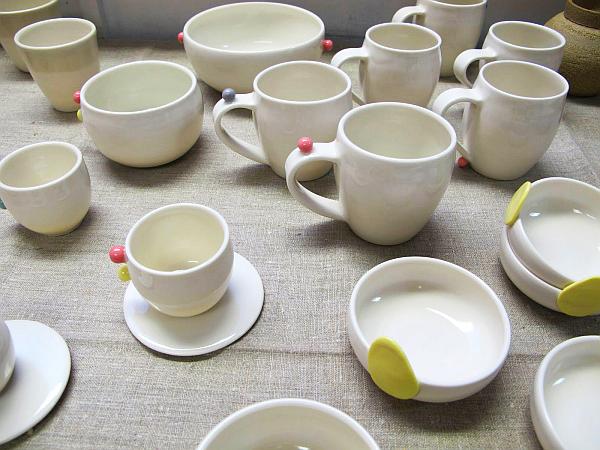 Buy Nam Nam Ceramics (and Poko Poko) and Namiko Murakoshi here

Nowhere is the art vs craft sparring match more prevalent than in the gloriously crafted work of artist Namiko Murakoshi and her 'Nam Nam'  and Poko Poko collections.
Namiko, originally from the island of Okinawa is an artist with a smile on her face.  I particularly like her 'surprises' - the hearts hidden in the bottom of jam pots, for example, giving messages of love and hope to the person who comes to the end of their jam. 

Here is what Namiko has to say herself....
"I was born and brought up on the islands of Okinawa, the home of the longest living people in the world. Feeding the goats and swimming in the sea, I grew up seeing how Okinawan people live. Whatever happens, the Okinawans never forget to smile, believing everything will be alright in the end. This life motto has made me who I am and I strongly believe that smiling is one of the keys to a long and happy life.

A smile gives a huge amount of power, not only to the person who sees the smile, but also to the person who generates the smile. A baby's yawn, a cat's paw, a penguin's waddle – if those cute little things make you smile, my work will make you smile, too. I make ceramics for everyday life, ceramics for more smiles.

My work can be briefly classified into three genres: namnam tableware, Hairy Babes plant pots and decorations – Origami Ceramics and Shisaa guardians. They are all quite different from each other but the base concept is always the same: ceramics for more smiles. I intend to put a "smile factor" in each piece of work I make, which is often achieved by being playful and wondering/questioning the way things are.

The "namnam" range is a collection of porcelain tableware – simple forms with small details, each piece is thrown on the wheel and altered later on. The inspiration for this particular range mainly comes from Wagashi (traditional Japanese confectionery). Wagashi is usually very tiny but full of eye-sparkling factors: colourful and playful, yet sophisticated. For me, it is the ultimate object that can be enjoyed both visually and tastily.

The latest pieces added to the namnam range this year are a collection of porcelain boxes. I have been playing with coloured balls on my namnam pieces for a while – first, the balls were on the surfaces (Poko Poko series) but then they went in a bit with tiny dent (Poko

Heko series), and now they are completely gone through (Poko Supo series) so you can see the balls from both outside and inside. One of the reasons I like about putting balls especially on my boxes this way is that you cannot see what is happening inside the box until you open it. I believe a box should carry a surprise and the surprise should be a nice one.

Making has always been, and is still, something very natural for me. I do not remember how I came to a decision to do it professionally but I know that I need to keep making just like breathing. It is not easy to change the world, but I can at least try bit by bit by making something that makes people smile."

---
HomePage

--›
Contemporary Ceramic Artists
--› Nam Nam - Art Ceramics (Arts-vs-Crafts)