Nikki Ella Whitlock - Cool Designs
Cool Designs/Sculptural Nirvana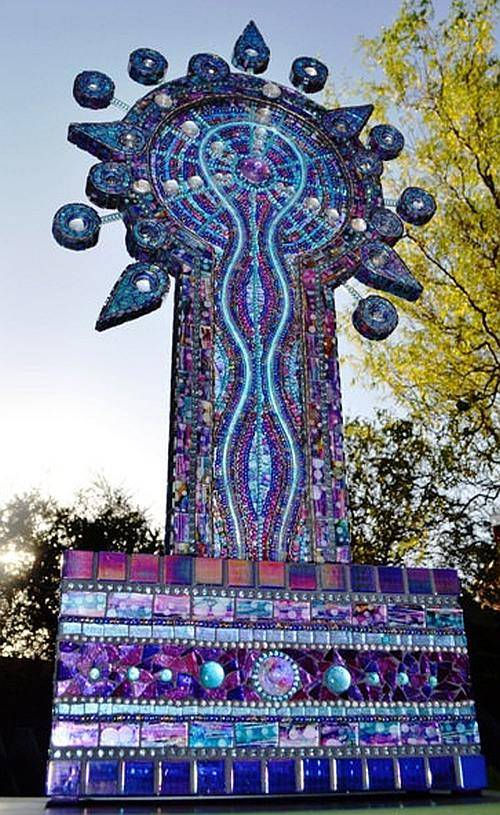 "Unfolding Vision" This one of Nikki Ella Whitlock's cool designs for her indoor lamp sculpture (mosaic illumination) measures 31" x 16".  Cost £2000 GBP
More information available here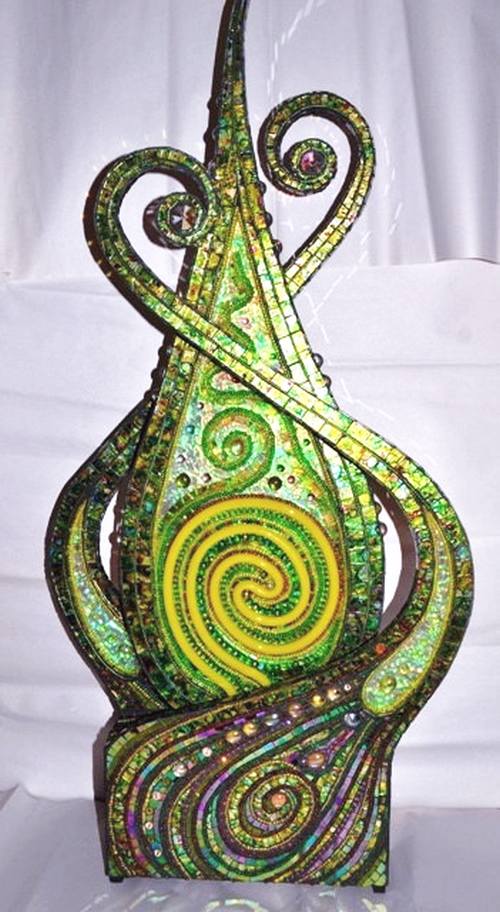 Mosaic Lamp - "Conversations With Nature".  Size  37" x 17" (sound-activated, neon, E.L wire & mosaic sculpture.  £2500 GBP
More information available here
Painstakingly Crafted/Transcendentally Spiritual
            Grounded in art - rich in cool designs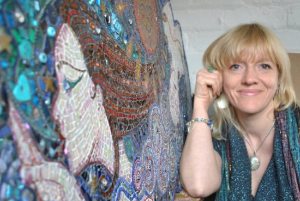 Nikki Ella Whitlock is working on making her lamp sculptures interactive and responsive to sound and light changes.  She uses an impressive cocktail of technologies - solar power, neon glass, EL wiring, computer programming for example, but nature is her main inspiration, her work is looking to emulate the wonder of naturally bio-luminescent organisms.

Nikki's work is so good it's hard to describe, but we'll have a go....
Undeniably imaginative and so different, the work is painstakingly crafted, but at the same time transcendentally spiritual, but above all just plain beautiful.  

We were looking for UK ceramic artists to show in our sculptural section and stumbled across her cool designs online.

True Fusion Art - Defies Classification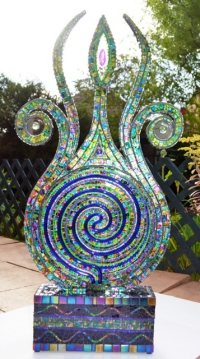 OK, hands up....  If we were to strictly adhere to a classification for this website of 'ceramics', we would find it difficult to fit Nikki's work in, as, well, the lamp mosaics are recycled glass and mosaics at core (rather than a fired ceramic).

But, luckily, as glass is a type of ceramic (classified as an 'amorphous' ceramic), then, (phew!), by our own self-imposed restrictions, we can show Nikki Ella Whitlock's stunning work here in the  'sculptural' section.  That's good because frankly, we are very much fans of her ideas and work.  

Remember, this website's title is 'Fusion Art' - and, within this description, we are interested in art and design which both crosses over, re-defines and defies classification.  Whitlock's art and cool designs certainly do that.  It is both brain food and eye candy at the same time.

Stomping a Trail Through the Long Grass
Here's an idea of what we think motivates and informs Nikki (in our words!) ......

Nikki is creating new forms out of broken things and so is rendering a fresh sequence to once lost objects.  Mosaics are her analogy for the fact that our daily lives are constantly making us piece things together, learning as we go. The more forbearing and organised we are, the more we can be allowed flourish - and finally, when we have worked hard enough, we can be lit from within, just like her sculptures.  

Always breaking new ground with new techniques, stomping a trail through the long grass, it seems to us Nikki is joining her energy with a bigger energy in order to register her mark on the universe, something we recognise and respect, something common to many of the artist we feature on this site.

The Science of Colour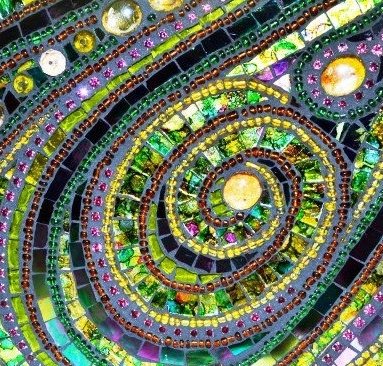 Nikki has studied the science of colour and partly this is what makes the sculptures such eye candy.  The other part is to do with concept and shapes.  In the Eastern philosophies there are many references to the "universal wave motion", and in Tai Chi, practitioners study the motion of flowing water.  We see this in Nikki's sculptures and find the presentation spellbinding.
Nikki's work doesn't just stop at her mosaic lamps though.
She is a fully rounded artist with figurative and portrait art in her portfolio also.  We hope to soon be setting up a space dedicated to featuring a whole range of Nikki's art, so watch this space.
Making the Unconscious Conscious
With Nikki's work, we are reminded of the words of Carl Jung (founder of analytical psychology, whose research informs the modern study of human personality through art, mythology and dreams):-  "Until you make the unconscious conscious, it will direct your life and you will call it fate."

So, in part, Nikki is helping us make the leap of faith to bring the unconscious to the conscious level - something Jung tells us we really ought to do, and who are we to argue?

A big thank you to Nikki Ella Whitlock for agreeing for us to feature her work on this site.  Her work is available to buy, but be aware that she is busy and it is sought after, so work with us to get what you want.  Click on this link to talk to us about Nikki's work availability more.
---
HomePage

--›
Sculptural Ceramics
--› Nikki Ella Whitlock - Cool Designs