Burnt Offerings - Bold Room Design Ceramics
Garden Art Ideas by Urban Artist Chris Todd
Chris Todd has taken garden art ideas to the urban edge with his abstract ceramic painted garden planters - an explosion of graffiti art to challenge your flowers.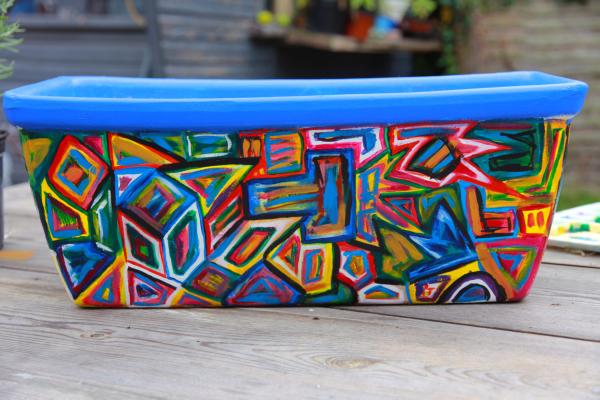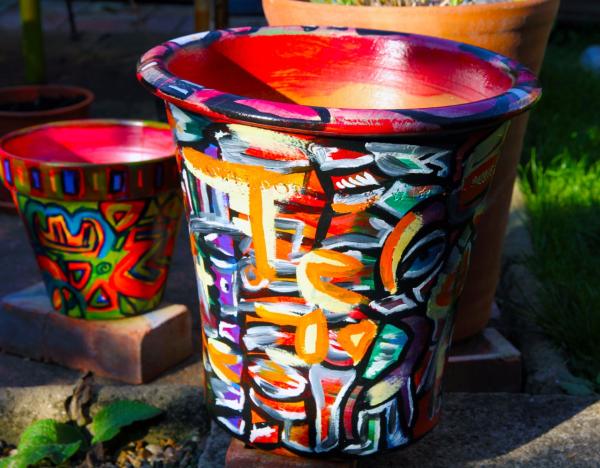 Note from artist Chris Todd, who sells his garden art ideas as "Potlook"
"After studying art, I explored other areas of creativity and the art took a back burner for many years.  I bought an easel about three years ago and started painting in earnest, relearning techniques, how to use paints.

In 2011 I moved into a house with a garden and noticed how dull terracotta pots were, in garden centres, I also noted that all the pots available were boring, 1 coloured pots with a nasty glossy sheen. 

On a (rare) hot Summer's day, I took the easel outside to paint and during a break, I looked at the easel, the paints and the dull terracotta pots strewn around the garden and that's when I decided to paint a few and haven't looked back since. I've painted a large number of pots so far selling mainly to friends; I've also painted other items such as mirror and window frames.

My influences come from pop artists such as Keith Haring, Roy Lichtenstein & Jean Claude Basquiat to abstract art from Rothko and Pollock & Miro, I also draw inspiration from album covers to sights seen in places such as Glastonbury, Lisbon, Seville & Chefchaouen. When choosing which colour scheme to use, I mainly just concentrate on the colours that I enjoy seeing and hope that other people enjoy them too."

---
HomePage

--›
Contemporary Ceramic Artists
--› Burnt Offerings - Bold Room Design Ceramics