Scottish Porcelain Illustrated ceramics

by Wendy Kershaw
The award-winning Scottish porcelain of Wendy Kershaw, illustrated with beautiful narrative images, shows a highly creative mind combined with finely honed technical skills.


A detail from Wendy's porcelain book, 'A Small Book of Chinese Proverbs'.
The years of working as a ceramic lecturer, technician and also an artist in residence has been good preparation for Wendy Kershaw's move to being a full time ceramacist. She is certainly qualified in her position and has a Masters degree from Cardiff University and a first-class honours BA previously obtained at Grey's School of Art in Dundee.

Wendy is a true artist, who works in the medium of ceramics and uses her beautiful narrative illustrations to create framed panels, ceramic books, diptychs and folding screens. She utilises the beauty of the medium, usually porcelain but sometimes terracotta, to add a wonderful unique quality to her work. Everything is made by hand and each piece is a beautiful one-off original.

Wendy kershaw's ceramic books open and can be read with their delightful illustrations.
Now based in the idilic setting of an old farmhouse in a Scottish glen near Lockwinnoch in Renfrewshire, about 20 miles west of Glasgow, she has her studio in the house and her kiln in an adjoining barn. Her time-consuming passion involves several firings as each successive, intricate layer builds up her rich imagery and progresses her work to the final result.  Thinly rolled out sheets of raw clay are meticulously etched using sewing needles to start each new illustration. Ceramic stains are rubbed or washed on, partially erased and carefully worked into this image before the first firing. Later, ceramic decals (transfers) and onglaze enamels are utilised to finish the artwork.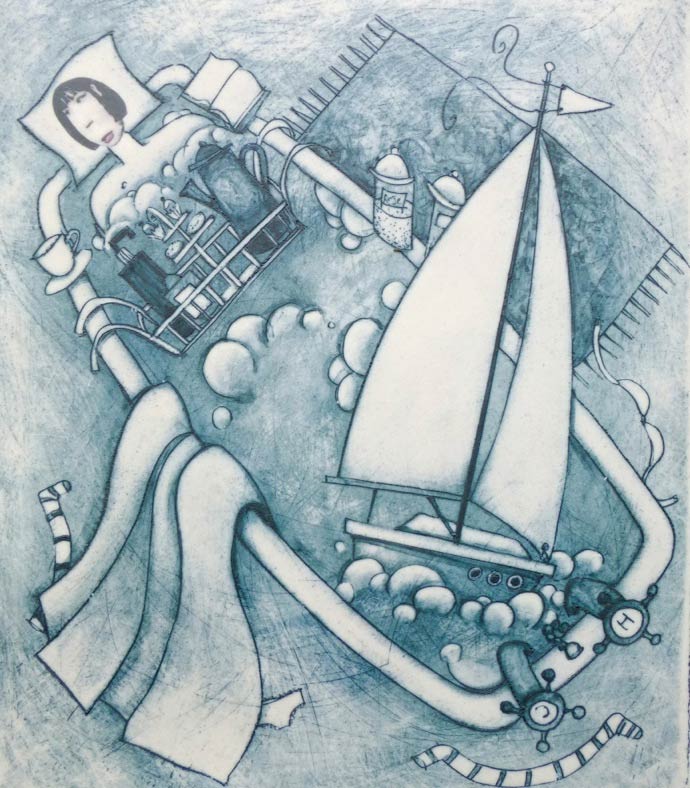 'Sail, Hot tub' illustrating the pleasures of a nice long soak!
Inspiration for her work comes from many sources: for example, the poetry of Tennyson and Keats, and about the simple pleasures in life such as a long soak in a lovely hot bath tub. Her own original stories also feature strongly and include ones such as a story of a girl who keeps many spoons about her person in special pockets just in case the ever is a chance of missing pudding due to lack of a spoon! Another, about a special tea van that provides the most wonderful brew, relates to universal concerns that most of us can associate with, I'm sure!

'Maud collecting flowers'


Wendy painting one of her pots

'Maud collecting flowers' (another illustration on this theme)

Another major influence in Wendy's Scottish porcelain work is three residencies in China. She was invited there after her porcelain books were exhibited in The US and she attended as part of the UK delegation to the FuLee International Ceramic Art Museums. She worked in Jingdezhen, Shanghai, the centre of the Chinese ceramic industry and a major world centre for the art. It is fascinating to see the combination of historic Chinese design combined with her unique illustrative style. You can see this in her illustrations from her 'Small Book of Chinese Proverbs'

Wendy exhibits in the UK and abroad and has her ceramic art represented in the permanent collections of two major Chinese Museums

---
HomePage

  --›  
Contemporary Ceramic Artists --> Scottish porcelain by Wendy Kershaw