Schneider - Urban Culture Art Ceramics
Ceramics Within Urban Culture & Art
Urban culture is Schneider's thing.  She is a contemporary artist working her ideas into edgy modern ceramics.  - A heads-up for Schneider......  also to be found within our ceramic jewellery section (where she trades as Porcelainbling).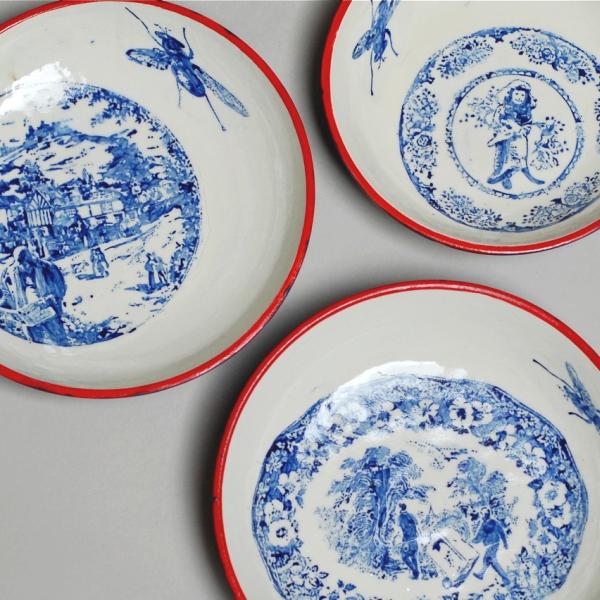 Buy Schneider's ceramic urban art here

Counter-Culture Art

Schneider is Schneider.  No christian names, no bio.
Schneider, the person, is great company and wholeheartedly welcoming, down-to-earth and, well..... nice.  Schneider, the urban artist, is by instinct, upbringing and inclination a counter-culture operative who can't help but disclose images about society and her subconscious (and as it happens, perhaps our subconscious' too) using ceramics as a conduit for these presaging reflections.
Her art, at least within the medium of contemporary ceramics, is agitprop, with the ultimate cause or agenda being Schneider's own personal and sometimes deeply cryptic take on things.
Schneider's Art:  Framed, Reflective, Personal..... Create No Brand?

When is Studio Pottery Not Studio Pottery?

So we can't give too much away about the 'who' of Schneider, but we can let the work speak for itself.  We can't really call it studio pottery either as that often summons images of brown pots and boring shapes..... but art pottery is nearer the mark - urban culture art pottery.

However, Schneider's ceramic collections are beautiful, sharp, witty and above all full of the traditional painstaking skills of the studio potter.  Quite rightly for a person brought up in a repressive political regime where even a small child was not allowed to be unguarded for fear of people in authority being within earshot, Schneider prefers to spearhead her work with ideas, particularly visual ideas and juxtapositions rather than headline on the craft of how the pots were made.
---
HomePage

--›
Contemporary Ceramic Artists
--› Schneider - Urban Culture Art Ceramics